BREAKING: Nigeria shutdown UK High commission office over coronavirus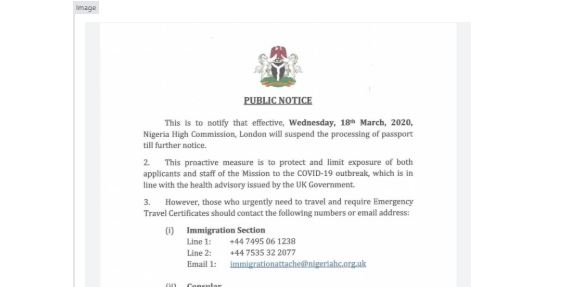 The Nigeria High Commission in London has suspended issuance of passports, as a measure to contain the spread of the virus and to protect the Staff of the commission in the United Kingdom.
Read Also :Coronavirus: U.S. begin human trial of vaccine
The High Commission however urged applicants who had urgent needs to travel, to send their documents via email to immigrationattache@nigeriahc.org.uk, welfareeducation@nigeriahc.org.uk or chancery@nigeriahc.otg.uk. Alternatively, they can call the immigration section on 07495 061238 or 07535 322077, the consular section on 07930 442416 or the head of chancery on 07495 061754.
The head of the Chancery, Rose Yakowa-Okoh who disclosed this in a Statement, said the suspension was in line with recommendations from the UK government.
About Author