Nigeria-Netherlands bilateral relations has ameliorated-NGOFA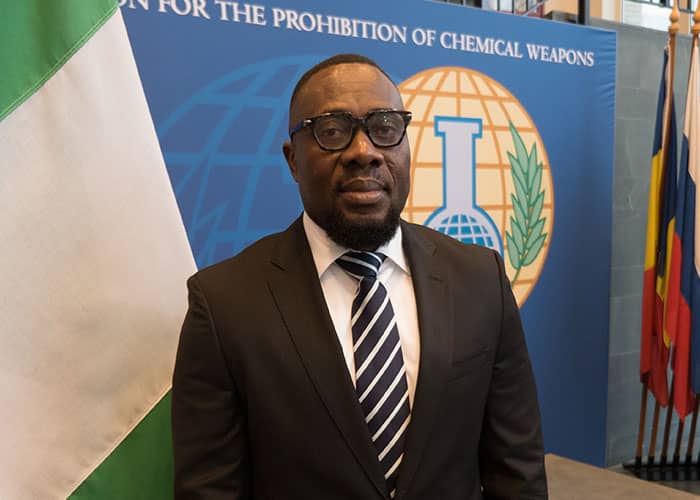 His Excellency Ambassador OJI NYIMENUATE NGOFA, Nigeria's Ambassador to the Netherlands gave his heartfelt Gratitude to the President of Nigeria, Muhammadu Buhari GCFR, the Hon minister of Transportation RT Hon Rotimi Amaechi and Nigerians for the privilege to serve in the capacity as Nigeria's Ambassador to the Netherlands.
" I feel very fulfilled and happy that I have the opportunity in doing my bid thus improving the relations between Nigeria and Netherland. I am also very grateful to Mr President for giving me the opportunity to serve Nigerians in this capacity . I also want to thank the Minister of Transportation Rt Hon Rotimi Amaechi for his endless support over the years " .
OJI NYIMENUATE who also highlighted some of his achievements as the Nigerian Ambassador to the Netherland mentioned Agriculture, Trade, Ict, as some of the key areas of achievement including foreign Direct investment (FDI).
" Quite fundamentally, we did a lot in enhancing the bilateral relations between Nigeria and the Royal kingdom of the Netherland.
You could recall that in 2018 President Buhari was here to give a key note speech during the 20th anniversary of the establishment of the international criminal court . We organized some bilateral conferences, and one of such was the drafting of a memorandum of understanding between Nigeria and the Netherland this has created a structured bilateral relationship between Nigeria and the Netherlands. We now have a mechanism that addresses critical Issues like Trade and Investment, Ict, Mining, security etc " he said .
He also went further to intimate Nigerians on how his administration has been able to leverage on the area of Food and Agro Products .
" we have established working groups that have constantly engaged each other and Nigerians will be happier for this.
Netherland has a lot of expertise in the area of Agriculture as they are the second largest Producer of Food and Agro Product in the World. This is one area Nigeria is leveraging on in terms of Agriculture and it's value chain.
The Ambassador also went further to give insights on the role the MOU between Nigeria and the Netherlands has played in broadening foreign Direct investment .
"The prime Minister of the Netherlands was in Nigeria precisely November 25th 2019 on a two day working visit . During that visit , we further enhanced the status of bilateral relations and we also made over one billion euros in foreign Direct investment. We can say that the MOU between both Countries has given us a road map and I consider that a major success.
We have always had a problem with structure before now where the Dutch had to relate with us on Adhoc basis on issues that are important to them. But now with the signing of the MOU, it has been we now have a direct channel of communication" he said .
The Ambassador also highlighted the formation of a united Nigerian single organization in promoting the interest of Nigerians doing business in Netherland
"Another key thing we have done is ensuring that we together a Nigerian Organization here in the Netherlands. Before now we had different organizations here in the Netherland but on my arrival we brought this three major associations together and establish a Single United Nigeria platform. This is to enable a group with common voice " .
When asked by correspondent of AsphericNews on the road map for Nigeria in Nigeria- Netherland relations he said
"We can learn a lot from the Dutch, because they have a lot of expertises to offer . Also pulling away from dependency that will make us Lazy and non creative by diversifying our Economy with Coordinated policies" he concluded .