NATIONAL SPORTS FESTIVAL HAS GLOBAL RECKONING – Gabriel Aduda. Perm.Sec.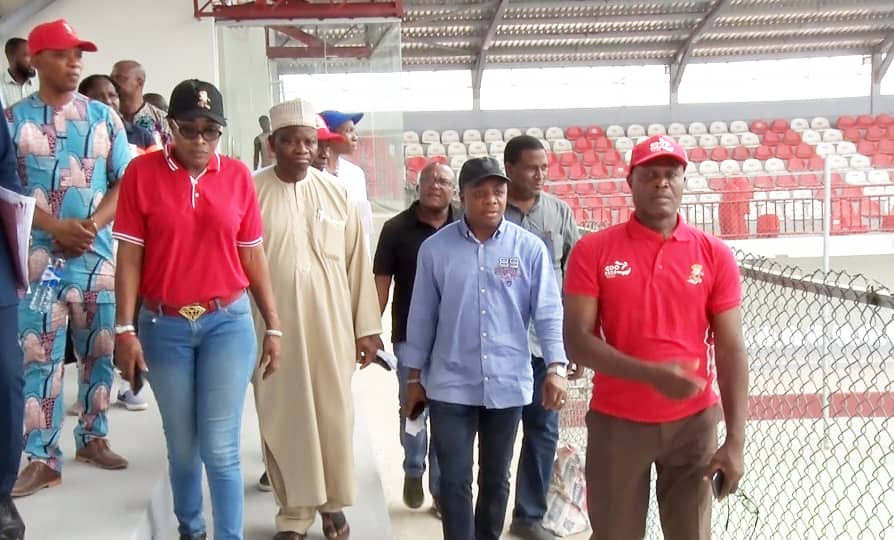 The 20th National Sports Festival, Tagged "Edo 2020," is of World standard and has global reckoning that will affect Nigeria's world standard rating as a sporting Nation since this is our own Olympics as it were.
Mr. Gabriel Tanimu Aduda, the Permanent Secretary, Federal Ministry of Youth and Sports Development, made this known in Benin, the Edo State capital during the joint MOC/LOC meeting and facilities inspection in preparation for the 20th National Sports Festival.
According to Mr. Aduda, who doubles as the Chairman, Main Organising Committee (MOC), a lot of work needs to be done in preparation for the success of the Festival.
He charged the Main Organising Committee as well as the Local Organising Committee (LOC) members to work hand in hand to ensure that all the t's are crossed and all the i's are dotted for maximum delivery of a successful games.
The Permanent Secretary highly commended the giant strides of Mr Sunday Dare, the Minister. More especially Mr Tanimu Aduda luaded and eulogise the timely delivery of facility upgrade by HE, Mr. Godwin Obaseki, the Edo State Governor and his Deputy Governor, Rt Comrade Philip Shaibu for their passion and commitment towards the success of Edo 2020, but warned that passion and commitment cannot come to fruition if the foot soldiers do not make it work.
"We want this festival to be the best amongst all other festivals ever held in Nigeria, and we want to be singing the same song at State and Federal level for the success of Edo 2020" he emphasized.
He however hoped that the accommodation facility for the use of athlete be given priority consideration, in his words " if an athlete has a good resting room that will ensure podium performance both for this game and when they go outside the country to represent Nigeria.
In his remarks, Dr. Emmanuel Igbinosa, the secretary LOC, assured that the state is ready to host the festival and to provide standard facilities for the success of the festival.
The President, Nigeria Olympic Committee, Engr. Habu Gumel, stressed on the chairman MOC's remarks, that Edo 2020 festival is linked to Tokyo 2020, as it is a testing ground for our athletes towards the Olympics event, hoping that the facilities in Edo will meet the international standard required for Tokyo 2020.
Committee members went into four groups for facilities inspection.
About Author