Corruption is the major cause of Insecurity- Amaechi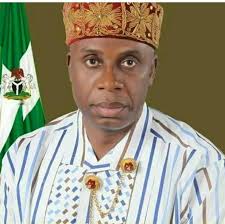 In recent times, the spate of insecurity has been on a high side. Nigerians are concerned and questions are being asked.
The Honourable Minister of Transportation, Rt. Hon. Chibuike Rotimi Amaechi was a guest on the Sunrise Daily Show on Channels Television, on Monday, where he discussed transportation in Nigeria and the problem with insecurity which is a major concern for travellers; and according to him, poverty and unemployment are the underlying causes of insecurity in Nigeria.
While pledging the commitment of the Federal Government towards solving the insecurity menace, Amaechi said, "The cure to insecurity is employment and reduction of poverty. The people we deny employment are the ones on the streets. If the government and elites fail to provide legitimate means of livelihood for the poor, the poor will provide for themselves, illegitimate means of livelihood."
"The looters have to return looted funds for jobs to be created, industries to be built and youth to be engaged; and we won't sleep until we find solutions to the problem," the Honourable Minister added.
Amaechi further stated that the Lagos-Ibadan Railway project has created about 10,000 direct employments and even more indirect employments, with the certainty of the Railway facilitating industrial revolution upon completion.
He also said the Federal Government is working to ensure that the Chinese Government source for building materials locally, in other to grow Nigeria's economy.