NIGERIA ANNOUNCE FINAL TEAM LIST FOR ACA CUP CHAMPIONSHIP IN KENYA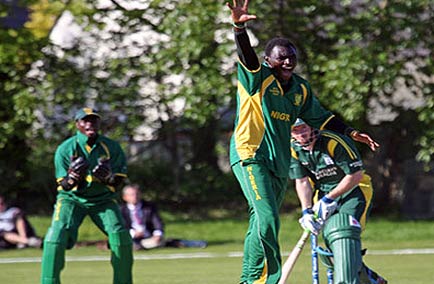 The Nigeria Cricket Federation is pleased to announce to the general public that the final squad list of players for the Africa Cricket Association Cup Championship has been announced in Lagos.
Nigeria and Ghana qualified for the tournament during the West Africa qualifiers held in Lagos from the 25th to 30th April 2018. Nigeria will look to bounce back from the infamous disappointing ICC T-20 world cup qualifiers in UAE to lock horns with Africa's finest.
The Yellow are drawn in group A alongside West Africa Rivals Ghana, Uganda and Malawi. Group B' will feature host Kenya, Botswana, Mozambique and Cameroon. The tournament will take place from March 20th – 28th 2020 in Kenya.
The team is finely balanced between youth and experience as the country looks to produce a formidable team for the tournament. Pradeep Chaudhary and Rasheed Abolarin will make their international debut for the team while Sylvester Okpe and Suleimon Runsewe will join the team after their exploits in the U-19 world cup in South Africa.
Joshua Ayannaike, for the first time, will lead the team as captain while Sylvester Okpe retains his position as vice captain.
COMPLETE LIST OF PLAYERS
Ovais Yusuf
Joshua Ayannaike (C)
Daniel Gim
Dotun Olatunji
Sesan Adedeji
Chimezie Onwuzulike
Pradeep Chaudhary
Vincent Adewoye
Isaac Okpe
Sylvester Okpe
Daniel Ajekun
Rasheed Abolarin
Chima Akachukwu
Runsewe Suleimon
By Betty Akota