Gernot Rohr To Arrive Nigeria Mid January Ahead Draws For 2022 World Cup Qualifiers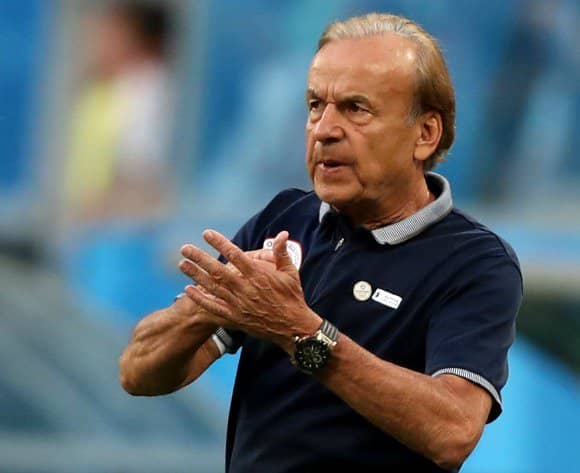 According to the media officer of the Nigeria national team, Super Eagles, Toyin Ibitoye, the head coach Gernot Rohr is expected back in Nigeria in two weeks time ahead of the draws for the second round of qualifiers to the 2022 World Cup in Qatar.
Reacting to speculation making the rounds that the Franco-German could ditch his job with Nigeria amid the 'media war' between him and chieftains of the Nigeria Football Federation, Ibitoye in a radio programme monitored by Opera News debunked it and revealed that the former Burkina Faso and Gabon coach will have a meeting with the NFF to discuss his new contract.
"Everybody in the NFF appreciates the job being done by Gernot Rohr. The coaches and the players, we are in touch all the time. Rohr loves his job that he is doing in the Eagles and the results are showing so why should he leave at this point. There's no true in that report at all.
"Rohr is coming back. The World Cup qualifiers will start in March so we have to be united, focused; ensure that we have no distractions because we have to approach the World Cup qualifiers with all the seriousness that it deserves.
"We expect Rohr to come to back to Nigeria say in two weeks' time all things being equal. He will be meeting with the Nigeria Football Federation and of course you know that in the third week of January the draws for the second round of qualifiers for the 2022 World Cup. There are plans for him to be at the draws in Egypt. That's the next agenda and like I said, March is not too far away.
Former broadcaster Ibitoye was in agreement that the war of words bothering on the emolument of the head coach should be a thing of the past in the interest of Nigerian football.
"It is in our interest that we should avoid those cracks (Rohr and the NFF media war) because if we don't, there wont much headway.
Super Eagles Coach, Gernot Rohr
"We should ensure that there's no third party interference and I like the harmonious and matured way things are going on right now. If the NFF provide him with an accommodation that will be nice and it will cut cost in the interest of the NFF.
Ibitoye also rubbished claims that Rohr has no interest in watching the Nigeria Professional Football League with a view to inviting players from the NPFL to the Eagles.
"Rohr has watched a lot of matches in the NPFL. I will personally pick him up from his hotel to the stadiums. We have watched matches in Lagos, Enugu, Jos and many other places," the image maker of the Eagles concluded.
The 2022 World Cup qualifier to be played in Nigeria will be hosted in Edo state capital, Benin City in late March.
About Author