Top Iranian Commander Killed in U.S. Airstrike in Iraq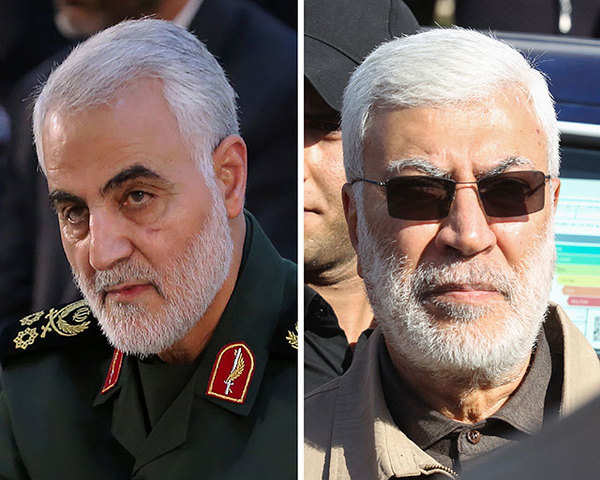 A predawn drone strike ordered by U.S. President, Donald Trump, at Baghdad airport on Friday has killed Head of the Iranian elite Quds Force, Major-General Qassem Soleimani, his adviser, Abu Mahdi al-Muhandis and five other members of the militia group.
A Local militia commander Abu Muntathar al-Hussaini, told Reuters: "Haj Soleimani and Abu Mahdi al-Muhandis were riding in one vehicle when it was struck by two successive guided missiles launched from an American helicopter while they were on their way from the arrivals hall on the road that leads out of Baghdad Airport." He said the second vehicle was carrying bodyguards from the PMF and was hit by one rocket. "The American criminals had detailed information on the convoy's movements," he added.
U.S. Defence department in a statement said: "At the direction of the President, the U.S. military has taken decisive defensive action to protect U.S. personnel abroad by killing Qassem Soleimani. "This strike was aimed at deterring future Iranian attack plans."
Qasem Soleimani was an Iranian Major General in the Islamic Revolutionary Guard Corps (IRGC) and since 1998 commander of its Quds Force, a division primarily responsible for extraterritorial military and clandestine operations. In 2012, Soleimani helped the Syrian government during the Syrian Civil War against ISIS.
Meanwhile, democrats have slammed Donald Trump for what many have termed 'reckless'.
The justification for the assasination is to "deter future Iranian attacks".

One reason we don't generally assasinate foreign political officials is the belief that such action will get more, not less, Americans killed.

That should be our real, pressing and grave worry tonight.— Chris Murphy (@ChrisMurphyCT) January 3, 2020
"This is a hugely escalatory move in an already dangerous region… President Trump just tossed a stick of dynamite into a tinderbox, and he owes the American people an explanation of the strategy and plan to keep safe our troops and embassy personnel, our people and our interests, both here at home and abroad, and our partners throughout the region and beyond" said Former U.S. Vice President and Presidential aspirant.
U.S. Senator Chris Murphy in a Tweet, said: "One reason we don't generally (assassinate) foreign political officials is the belief that such action will get more, not less, Americans killed."
Iranian Foreign Minister Javad Zarif has also condemned the killing, calling it an "act of international terrorism."
The US' act of international terrorism, targeting & assassinating General Soleimani—THE most effective force fighting Daesh (ISIS), Al Nusrah, Al Qaeda et al—is extremely dangerous & a foolish escalation.

The US bears responsibility for all consequences of its rogue adventurism.— Javad Zarif (@JZarif) January 3, 2020
Follow us on our Social Media Handles for Breaking and detailed News!
About Author