Michael Essien and Didier Drogba voted in Chelsea Team of the Decade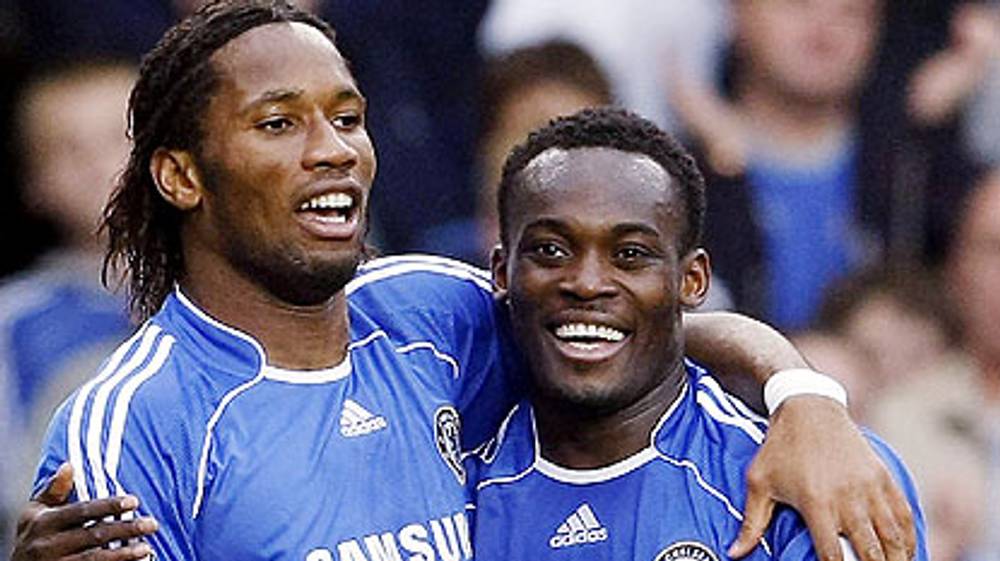 Two Africans and former players of England Premiership Side, Chelsea FC, Michael Kojo Essien and Didier Yves Drogba Tébily have been voted by fans and listed among players in the Chelsea 'Team of the Decade'. Chelsea fans all over the globe had recently voted for their best players on the club's official mobile app.
Michael Essien is Ghanaian professional footballer who plays for Sabail in the Azerbaijan Premier League. Essien started his career playing for Liberty Professionals in Ghana. In 2000, he moved to France where he joined Bastia, before moving to Lyon in 2003. At Lyon, Essien won back-to-back league titles in 2003–04 and 2004–05, and won the Ligue 1 Player of the Year in 2005. In 2005 Michael Essien signed with Premier League side Chelsea FC for a whooping £24.4 million transfer. At Chelsea, He helped the club win the Premier League in 2006 and 2010, as well as three FA Cups and one League Cup.
He won the historic UEFA Champions League in 2012 with Chelsea before signing a season-long loan deal with Real Madrid on the 31st August 2012. He has also played for Italian side, Inter Milan.
Didier Yves Drogba Tébily, the retired Ivorian professional footballer is the all-time top scorer and former captain of the Ivory Coast national team. He is best known for his career at Chelsea, for whom he has scored more goals than any other foreign player and is currently the club's fourth highest goal scorer of all time. He was named African Footballer of the Year twice, winning the accolade in 2006 and 2009.
After playing in youth teams, Drogba made his professional appearance at 18, for Ligue 2 club Le Mans, and signed his first professional contract at 21. After finishing the 2002–03 season with 17 goals in 34 appearances for Ligue 1 side Guingamp, he moved to Olympique de Marseille, where he finished as the third highest scorer in the 2003–04 season with 19 goals and helped the club reach the 2004 UEFA Cup Final.
In July 2004, Drogba moved to Premier League club Chelsea for a record £24 million fee, making him the most expensive Ivorian player in history. In the first season, he helped the club win their first league title in 50 years, and a year later he won another Premier League title. His displays saw him being named in the FIFA World XI for 2007. In March 2012, he became the first African player to score 100 Premier League goals. He also played in the 2012 UEFA Champions League Final, in which he scored an 88th-minute equalizer and the winning penalty in the deciding shoot-out against Bayern Munich. After spending 6 months with Shanghai Shenhua in China, and one and a half seasons with Turkish club Galatasaray where he scored the winning goal in the final of the 2013 Turkish Super Cup, Drogba returned to Chelsea in July 2014. With a career record of scoring 10 goals in 10 finals winning 10 trophies at club level, Drogba has been referred to as the "ultimate big game player." He joined Canadian club Montreal Impact in 2015 as a Designated Player and played 41 matches over two seasons, scoring 23 goals. Drogba became a player–owner for Phoenix Rising of the United Soccer League in 2017, and retired a year later at the age of 40.
As Ivory Coast international player between 2002 and 2014, Drogba captained the national team from 2006 until his retirement from the Ivory Coast team and is the nation's all-time top goalscorer with 65 goals from 105 appearances. He led the Ivory Coast to the 2006 FIFA World Cup, their first appearance in the tournament, and also scored their first goal. He later captained the Ivory Coast at the 2010 and 2014 FIFA World Cups. He was part of the Ivory Coast teams that reached the finals of the Africa Cup of Nations in 2006 and 2012, but were beaten on penalties on both occasions. In 11th December 2018, he became Vice President of an international body, the Peace and Sport Organization.
Non Africans named in the Chelsea Team of the decade are; Petr Cech (Goal Keeper), Ivanovic (Right Back), Gary Cahill (Center Back), John Terry (Center Back), Ashely Cole (Left Back) and N'Golo Kante (Midfielder). Others are Frank Lampard (Midfielder), Willian (Winger) and Eden Hazard (Forward)
Please Share our News and Follow us on our Social Media Handles for Breaking and Detailed News
About Author