We Need Your Support to Implement Actionable Agenda of the NDDC – Lauretta Onochie
The Chairman, Board of Niger Delta Development Commission (NDDC) seeks the support of Positive Sustainable Development Forum of Nigeria to carry out actionable and practicable programs for the benefit of the region, as the era of talk is over.
"In whatever we do, we must have the will power to execute our thoughts and see to the end of it rather than talking excessively about it".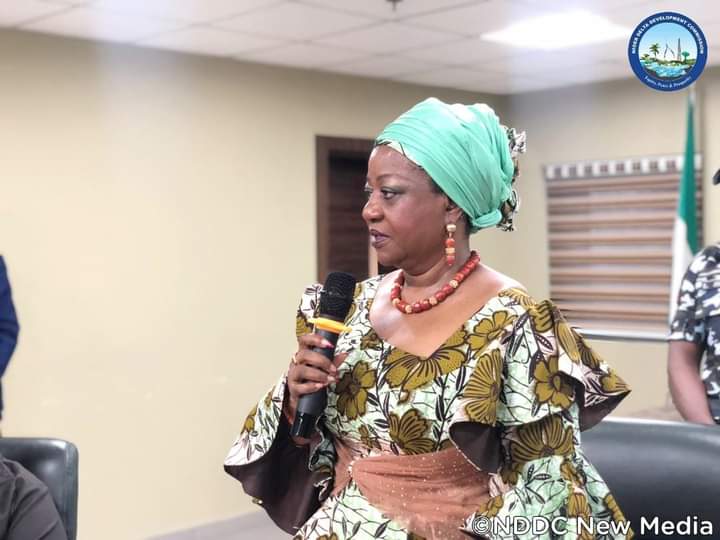 She made this assertion during a courtesy call by the Forum led by its President, Chief Onuoha Ubanson at the Commission's Headquarters in Port Harcourt.
She opined that the living standard of people around the world is on a decline, including the Niger Delta region which ought not to be.
"The living standard of people all over the world have fallen drastically. In our region, there is poverty but not as it is around the world because we are so blessed with land and numerous natural resources that are rarely found in the rest of the world".
She declared herself lucky to have resource persons as members of the board who are willing to improve the lives of Niger Deltans. "We have a collation of intellectuals on the Governing Board, men full of ideas, requisite skills and are eager and desperate to contribute meaningfully towards the betterment of the Region" she added.
The President of the Forum, Chief Onuoha Ubanson expressed readiness to commit human and material resources towards the sustainable development of the region.
"We the members of PSDFN, stand resolute to work in collaboration with the New Board and it's newly inaugurated Public, Private Partnership (PPP) committee. This PPP is the only viable way to achieve sustainable development of the region" he concluded.
In his vote of thanks, member representing North-West on the NDDC Board, Prince Sule Sani Ikoh, admonishes members of the forum to focus on afforestation in order to protect the environment and climate from degradation.