A Former Minister, Amaechi Influenced My Appointment As NPA MD, Says Hadiza Bala-Usman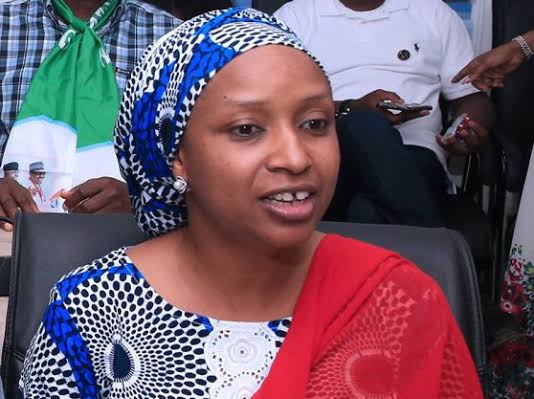 ---
A former Managing Director of the Nigerian Ports Authority (NPA), Hadiza Bala Usman, has cleared the air about the man, who got her appointed into office post-President Muhammadu Buhari's inauguration in 2015.
Contrary to speculations in some quarters, she revealed for the first time that Chibuike Rotimi Amaechi, the then Minister of Transportation, nominated her for the position.
It was speculated on assumption of office that Governor of Kaduna State, Mallam Nasir el-Rufai, whom she was serving as Chief of Staff influenced the plum job for her, a position that has never been occupied by a woman in the annals of NPA.
"I was surprised. It was the last thing I expected at this time, just as I was settling into my role as the Chief of Staff, she revealed in her book 'Stepping on Toes, my odyssey at the NPA.
"As Chief of Staff to the Governor of Kaduna State, Mallam Nasir el-Rufai, the workload was enormous. I usually did not take most calls until I accomplished my daily deliverables. But this was no random call.
"It was Rt. Hon. Rotimi Amaechi, who until a couple of months back, was the man I worked for in the Campaign Directorate for the Muhammadu Buhari 2015 Presidential campaign.
"Good morning, sir, " I said as I picked up the phone with a smile.
"How are you, Hadiza?" He responded.
"I am fine, thank you, sir. How are you too?"
"The President has approved your appointment as Managing Director of the Nigerian Ports Authority; you have to start work immediately!
"Before he hung up, I asked if he had told my boss, Governor el-Rufai about the appointment and he replied in the negative.
He reiterated the need for me to come over to the ministry and see the permanent secretary, whose duty it was to facilitate my resumption at the NPA.
Bala Usman, who is the first woman to head the Nigerian Ports Authority in its 61 years of existence, said internal reforms, expired contracts, breaking Intels oil and gas monopoly, violation of the Treasury Single Account (TSA) policy by Intels, LADOL vs Samsung issues and the tango with BUA are part of the issues that made her relationship with Amaechi went sour.
" I found it incomprehensible that a minister could ask that we stop a public tender process and instead re-appoint a company whose contract had also expired without a tender process
"Without raising any queries about the matter with the NPA, Amaechi wrote to the President informing him of shortfalls in yearly remittance of operating surplus by the NPA between 2016 and 2020,'' Persecondnews quotes some snippets from her book that has already hit the bookstores.
She said the former Minister of Transportation went further to seek Presidential approval that "I step aside".
"As the days went on, many people encouraged me to meet with him find out why things had degenerated to that extent and apologize if need be. So, on 20 May 2021, I went to see him in Abuja. At the meeting, he accused me of writing directly to the President without recourse to the ministry.
"He said he made the move because he wanted me to resign as he didn't want me in the office anymore. He concluded by saying that I should resign or go to court.
"I told him I wasn't going to do either, especially now that a probe panel was in place. The Public Service does not in fact accept resignations from staff under probe.
"I told him that I would rather wait for the panel to complete its task and present their findings as I was sure that I had done nothing wrong,'' writes Bala Usman.
She also said Amaechi told her that he would ensure that the investigation went on until 2022 when political activities would have started, and the President would not remember that she was still on suspension.
"He also said that what mattered to him was that I was no longer MD of the NPA.''
The book, published by Cable Books, is available at bookstores across the country.