Gov Tambuwal presents the budget of Sokoto services to the assembly on November 15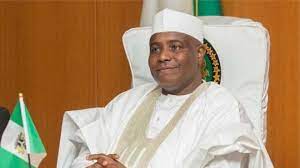 A bill for a law to appropriate the sum of N188,429,495,847.63 for the services of Sokoto State government for the year ending 31 December 2022, on Wednesday passed second reading at the state assembly.
The development followed a motion moved by Bello Ambarura, the All Progressives Congress (APC) leader at the assembly.
Contributing to the motion, Malami Basakkwace (PDP-Sokoto South II), who is the Chairman of, House Committee on Finance and Appropriation, called on the lawmakers to consider the request to enable the assembly to pass the budget without delay.
The Deputy Speaker, Abubakar Magaji, who presided over the sitting, referred the bill to the House Committee on Finance and Appropriation for further legislative action as the members unanimously adopted the motion in a voice vote.
Governor Aminu Tambuwal had presented the budget to the assembly on November 15.
Tagged "Budget of accomplishments and sustainable development", the budget is lower than that of 2021 (N205,016,512,295.41) by N16,587,016,447.78, consisting of both the recurrent and capital expenditures approved by the assembly.
According to Mr. Tambuwal, the 2022 budget proposal consists of recurrent expenditure of N75,871,203,284.34, representing 40.3 percent, while the sum of N112,558,292,563.29, representing 59.7 percent, remain capital expenditure of the total estimate.
Meanwhile, the assembly has extended a recommendation letter to the governor for his commitment and dedication to making provision for the best service in the state.
The members adopted the recommendation while debating on the general principles of the state 2022 budget addressed by Mr. Tambuwal.
They lauded the governor for his focus on presenting a realistic budget that will address various sectors of human development in the state.
(NAN)