Minister of Labour says Buhari's regime wrongly pays millions of naira to 588 doctors, demands a refund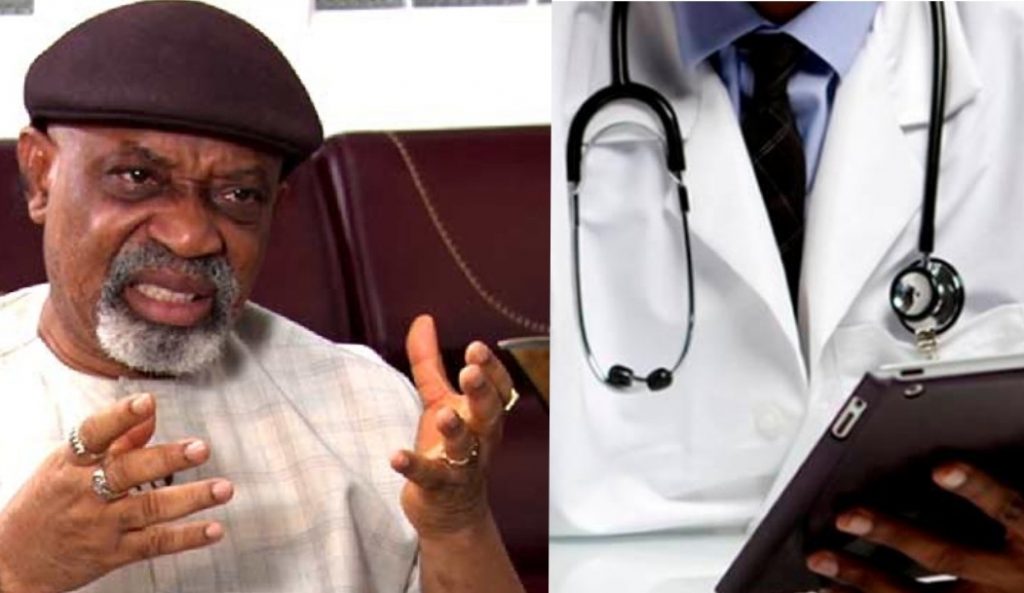 President Muhammadu Buhari's regime says it will recover millions of naira wrongly paid to 588 medical doctors across the country.
Minister of Labour and Employment, Chris Ngige, stated this in Abuja while speaking with journalists.
He explained that affected doctors wrongly benefitted from Medical Residency Training Fund meant for a particular category of doctors.
He said the regime uncovered the names of the doctors after scrutinising a list of 8,000 doctors submitted by chief medical directors of health institutions for the training programme.
The minister admitted that some of the affected doctors had refunded a substantial amount of the money.
"Ministry of Health has gotten the list of doctors who supposedly are to benefit from the Medical Residency Training Fund," said Mr Ngige. "Total submission of about 8000 names were got, and the Ministry of Health is scrutinising them. We have done the first round of scrutinisation."
He explained that the ministry "will now compare what they have with the Postgraduate Medical College and the chief medical directors" who submitted the names.
"The (National) Association of Resident Doctors, in each of the tertiary centres, worked with the CMDs to produce those names, but now that the names are being verified," Mr Ngige further stated. "We discovered that about 2,000 names shouldn't be there because they don't have what is called Postgraduate Reference Numbers of National Postgraduate Medical College and (or) that of the West African Postgraduate Medical College."
He disclosed there was an ongoing verification to avoid a repeat of undeserving doctors benefitting from the residency fund.
"In 2020, the submitted names didn't come through the appropriate source, which is the Postgraduate Medical College, and payment was affected and it was discovered that about 588 persons, who were not resident doctors benefited from such money," the labour minister added. "They are now finding it difficult to make the full refund. But they have to refund that money. Some are refunding, but there is no full consideration of the account."
On the ongoing strike by resident doctors, Mr Ngige expressed the federal government's readiness to withdraw its lawsuit if the doctors call off the industrial action.
He, however, insisted that the government would enforce the 'no work, no pay policy.
(NAN)