Nigeria's lawless abyss of death and governor of katsina blunder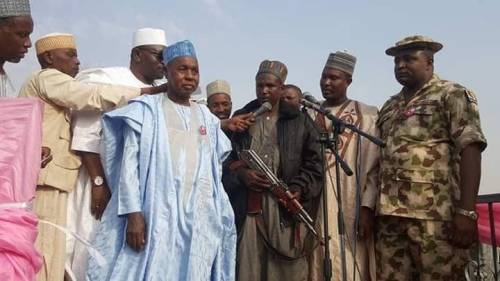 Recently, a news report around Governor Aminu Bello Masari's condolence visit to the families of 10 victims hit by a Customs vehicle in Katsina where he reportedly advised Nigerians, in the face of the heart-rending security crises, to pray and buy guns for self-defense was published.
"We must all rise up to counter the insecurity challenge, we must not seat and watch some people buying guns attacking our houses, we too should buy the guns and protect ourselves," Peoples Gazette quoted Mr. Masari as saying.
This statement, to me, is illogical at best and disappointing at worst. Apart from the fact that it betrays the governor's detached concern for the basic security of the people he took an oath to protect, it dramatizes the monumental failure of the Buhari-led regime, especially in the area of security.
It is no longer news that Nigerians contend with hard reality daily. Every day comes with news of people being killed; students being kidnapped, security personnel being dislodged from their posts. From the north to many places in this country, the trend is how bandits have taken control of a country that some people purport to be administering.
In Katsina State, for example, the existential problems of banditry and kidnapping are diverse. Many local government areas in the state, especially Kankara, Jibia, Kurfi, Batsari, Safana, Faskari, Funtuwa, Dustin ma among others, are becoming increasingly uninhabitable to people.
These places witness incessant shows of bandits launching attacks, raping women, and rustling cattle. And, instead of the government in the state to intensify its effort and see that normalcy is restored, it could only advise the locals to take up arms against bandits instead of sitting and watching them destroy their lives and property. How ignorant?
Recall that last week, twenty-two travelers coming from Bauchi were gruesomely killed along Rukuba Road in Jos North LGA of Plateau State. Nothing has been done to investigate the culprits. Sadly, this is one among many instances of unwanted crises that have become legitimized. While trying to read meaning into this growingly scary reality, it is not illogical to argue that the government has unarguably lost it security-wise. It now exists as a vacuum.
In all of this, it is worth it to ask where these bandits get their sophisticated ammunition and from whom they enjoy the back to threaten the survival of the innocent Nigerians. Of course, the government can't claim innocence given its careless ways of handling the security issues eating the country in leaps and bounds. The irresponsibility of the government is manifest in the ways bandits have grown past all the lame strategies put in place to bring them down.
Amid this tension, governor Masari feels that the only solution is for Nigerians, who are already terribly broken by poverty, to source solutions themselves. Did he think about national peace and orderliness before saying this? No. Illogical as it seems, governor Masari's error should remind us of the complete lethargy of the government to guarantee us basic security. This is a serious issue.
I think it is high time we knew where we are heading. Now that we have understood that it is useless to rely on the government that can't and won't fight to see that we are safe, Nigerians must seek alternatives. We have to come to terms that personal security is imperative, not necessarily be in possession of guns, as that will result in more dangers.
Community leaders, away from the fact that the Nigerian government is unperturbed by the crises around, should come up with homegrown but viable strategies that can make their people conscious of imminent attacks by bandits.
While it is not completely untrue that some of these bandits reside in the communities, it is necessary for community leaders and the people to devise ways of identifying them and reaching out to security agencies in earnest.
It is important, finally, for us to realize that waiting for the government to decide for us in terms of security means waiting for Godot– nothing will come out of it. We can do everything to protect ourselves, but not buying guns. That can be disastrous in the long run.
Ambali Abdulkabeer is currently a corps member in the Department of English, Federal College of Education, Katsina. You can reach him at abdulkabeerambali@gmail.com.