CDS assures Nigerians peace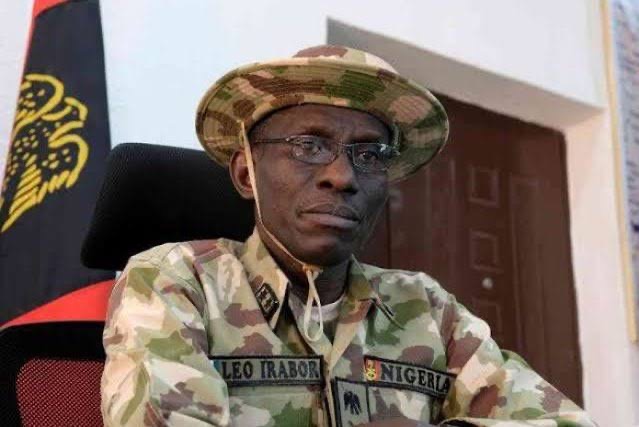 The Chief of Defence Staff, General Lucky Irabor on behalf of the other service chiefs has assured President Muhammadu Buhari and Nigerians that Nigeria will exprience peace again.
Irabor gave this assurance while speaking with state house correspondents after the decoration of the new service chiefs saying that they will not fail in their responsibilities. He said their mandate was clear.
"Nigeria will have peace again. Based on the mandate, we will address all issues, working with all other security organisations," he said.
Irabor added that he was aware that Nigerians expect them to restore peace and security in concert with other security agencies.
He promised that he and the other service chiefs would achieve that.
"We can't live in fear. We will ensure that whatever brings fear to Nigerians before now will be a thing of the past," the CDS promised.
He further promised that they would not give the kind of instructions they cannot carry out themselves to their subordinates.
He added that they would command the troops based on the expectations that they have of them.
Irabor said they would also review strategies with a view to coming up with new ones to be able to meet the demands of the current realities.
He said they would work hard to achieve the target Buhari set for them.
He said, "That is a matching order that Mr President has given to us and we will work assiduously to achieve that. No doubt, next 100 days is not as important as today.
"I believe that as members of the Armed Forces working in concert with the rest of the security agencies, we will bring Mr President's expectations to bear in terms of our task.
"But let me also let you know that the inevitable is that Nigerians will indeed experience peace and security across the land."
On the role played by the military in the negotiation that led to the recent release of abducted students from bandits, Irabor said, "We as members of the Armed Forces will never in any way demand peace and security of our nation in the hands of the terrorists. Rather, it is we that will determine the peace and not for us to live it in the hands of the terrorists."
Vice-President Yemi Osinbajo; Secretary to the Government of the Federation, Boss Mustapha; Minister of Defence, Major-General Bashir Magashi (retd.); and Chief of Staff to the President, Ibrahim Gambari, among other top government officials attended the event.