Boko Haram: Many Killed, Dozens Injured As Explosions Rock Maiduguri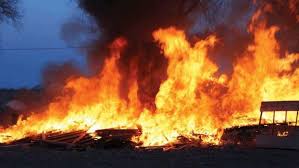 Many people have been killed and scores injured on Tuesday when Boko Haram fighters launched multiple attacks on Maiduguri, the Borno State capital, DailyTrust reports.
Nine boys were killed while playing football at Gwange, near the house of the late General Mamman Shuwa, when rockets landed in the area, witnesses said.
"Four people have been confirmed dead in our area, known as Adam Kolo," said a Maiduguri based journalists, Ali Chiroma.
"The explosive fell a few metres from our house. All the people that sustained injuries have been rushed to the UMTH for treatment," he said.
Adults including men and women as well as children were among the fatalities, with sources saying some of the victims have lost their limbs.
The areas worst affected are Kalere, behind the University of Maiduguri Teaching Hospital (UMTH); Gwange; Adam Kolo, not far from the Shehu of Borno's Palace and adjoining densely populated areas.
Residents and security sources said following the first set of bombs launched at densely populated areas of the city, the terrorists made attempts to use the opportunity to go into the town but were repelled.
It was the first major and audacious assault on Maiduguri in years, heightening fears among residents that the terrorists might be lurking around, obervers said.
A top security source said the terrorists deployed mortar bombs and rocket launchers from the outskirt of Maiduguri and targeted the civilian population, killing many and inflicting serious injuries in others.
It was learnt that the terrorists fired the first assault around 6.04 pm and sustained the attacks for over 30 minutes, prompting thunderous sound that caused a scare as people scampered for safety.
Some of the victims were rushed to UMTH while others were taken to the Specialists Hospital around the Post Office area.
Governor Babagana Zulum was at the UMTH where he sympathized with the injured.
All efforts to reach out to the military in Maiduguri; NEMA and SEMA, for official comments were not successful