COVID-19: Another Lockdown looms as PTF warns Nigerians to observe Protocol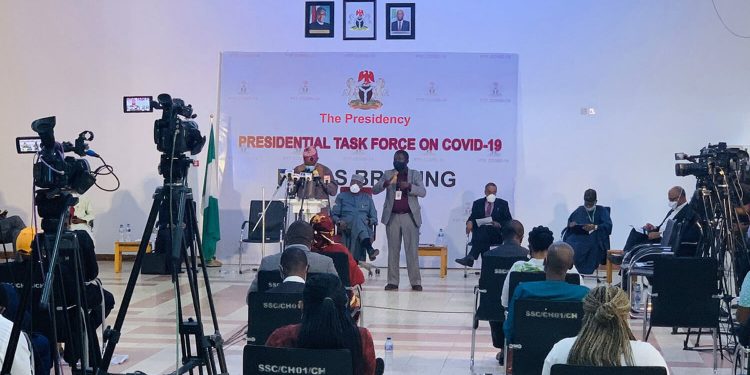 BY Victoria Ogunrinde
Following the spike in the second wave of the novel coronavirus, the Presidential Task Force (PTF) on Covid-19 has warned Nigerians to observe protocol or risk another lock down.
National Coordinator of the PTF, Dr Sani Aliyu, while expressing worry that despite the second wave whose effect is deadlier than the first wave, Nigerians have continued to shun the prescribed protocols said the only way to prevent a re-introduction of a lockdown is by adhering to the advisories.
Speaking on a television programme on Sunday, Aliyu said: "If you don't want a lockdown, the only way is to make sure we use our facemasks, avoid mass gatherings, avoid people who have respiratory tract infections, sanitise our hands and follow those non-pharmaceutical interventions.
Meanwhile, Aliyu disclosed that healthcare workers, elderly, those above the age of 60 years and those with complications like diabetes, cardiovascular and the likes will be given priority when the much awaited vaccine finally arrived the country by the end of January 2021.
"
it is going to be voluntary, free and it will be initially for specific group of people. We are going to prioritize healthcare workers, elderly like those above the age of 60 and those with complications like diabetes, cardiovascular disease and so on, because these are people that are most likely to have severe covid infections".
"The vaccine will be coming in the next four weeks hopefully, the first batch will arrive by the end of January and we will vaccinate and those people who don't want to vaccinate, we will try as much as possible to convince them and we will make use of risk communication strategies because we've had previous experiences," Aliyu said.
"Remember what happened with polio. A lot of things were said about polio vaccine but at the end of the day, we finally get on top of the situation and we were able to convince people and I hope we will be able to convince our communities, religious leaders and traditional rulers to come and line up behind us and make sure that everybody who needs the vaccine can get the it".
Aliyu also said the vaccine will not be made compulsory but government will create awareness to make it clear to public that it is in their best interest to do so and also demonstrate how safe it is.
"In public health terms, what we try to do when it comes to public health interventions is you don't make it compulsory unless you really have to but you try as much as possible to create public awareness to make it very clear to the public that it is in their best interests to do so and also to demonstrate how safe it is.
"By the time the vaccine comes to Nigeria, by the end of January or early February hopefully, we would have had tens of millions of people across the world would have had this vaccine and it will be very clear that it is safe and effective".
"Whatever happens even our neighbours for instance, if they get on top of epidemic and we have a raging epidemic going in Nigeria simply because we are not keen into taken covid vaccine and become barrier nation, we will be at risk in the entire sub region in terms of control of covid". Aliyu said.
"On the vaccine that Nigeria will get among those that has passed clinical test, Aliyu disclosed that government is working closely with Garvey as discussions are still ongoing adding that PTF has ordered Primary Healthcare Agency and Federal Ministry of Health to put some sort of exercise in place for safe distribution of the vaccine.
"We are not going to put our egg in one basket and that discussion is still ongoing. We are working very closely with Garvey.
"The vaccine that we will use will be vaccine that has been validated. They have undergo full clinical required and we know that are safe and they will be vaccine that are acceptable by International communities including Garvey".
"I don't think people should worry too much about the logistics side ahead of it. The primary healthcare development agency is already very closely to make sure those vaccine that required ultra-pole chain arrangement, that arrangement is put in place and that from the PTF side, we have already asked the Primary Healthcare Agency and federal ministry of health to make sure they do some sort of early exercise to make sure that everything is in place".
"But even with the pole chain for instance, they have to be told that you cannot inject frozen vaccine into human. There will be some allowances in terms of number of days you can keep the vaccine at the normal refrigeration temperature before you administer but people don't need to worry about those logistics, I'm sure it will be done and it will be done properly". He added.