Buhari Attends Passing Out Parade Of New EFCC Detectives In Kaduna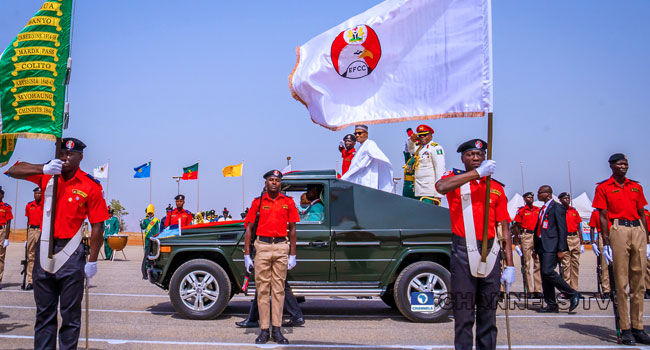 President Muhammadu Buhari is at the Nigerian Defence Academy (NDA) in Kaduna State for the Passing Out Parade ceremony of the Detective Inspector Course of the Economic and Financial Crimes Commission (EFCC). According to the EFCC chairman, Ibrahim Magu, the collaboration with the NDA in training the detectives is to ensure that its officers will not be intimidated or defeated in the fight against corruption.
President Buhari used the occasion to reassure Nigerians of the commitment of his administration in the fight against corruption. Buhari said: "My resolve is to ensure that the reforms are deepened such that there will be no hiding place for corrupt persons and proceeds of corruption. My aim is to ensure that no government financial transaction is done in secret and all are subjected to public scrutiny.
"The objective of this administration is to institute a level of transparency in governance through mainly information technology platforms. Just as advanced democracies and some developing countries, I am determined that within a short period, citizens would be able to follow core government operations online," President Buhari said.
About Author