86-Year-Old Retired Professor, Mark Nwagwu Enrolled For Ph.D Programme At UI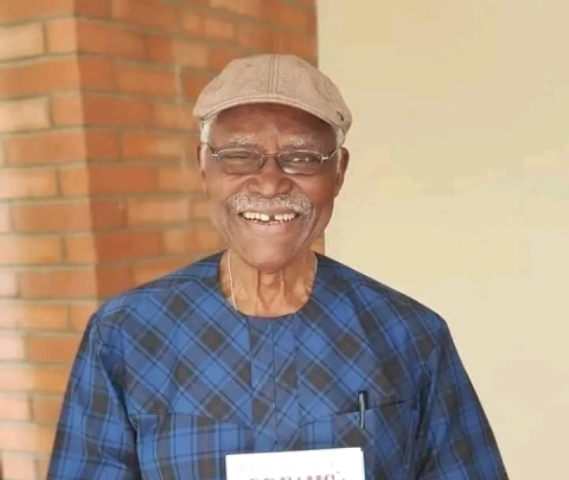 ---
Mark Nwagwu, retired Zoology professor, poet and columnist, who turned 86 today, has registered for a Ph.D programme in Anthropology at the Institute of African Studies, University of Ibadan.
The renowned professor took to his Facebook on Wednesday May 17 to disclose this.
He wrote: "This morning on my 86th birthday anniversary, I was at the Post-graduate School, University of Ibadan and registered for Ph.D studies in anthropology in the Institute of African Studies. The staff welcomed me with Happy Birthday songs to my delighted amazement."
Stunning? Sure. Nwagwu is currently at the University of Ibadan to develop the research project within the next two or three weeks.
When PMNEWS asked the distinguished professor, in a brief chat, why he decided to register for the programme, he said he wanted to find answers to some thorny questions that can only be provided through hard research.
"It's quite a long story but I'll keep short. There's a man, a brilliant and successful lawyer whose lifestyle caught my attention and I decided I would follow it up with a biography. He was accessible but did not think that what he did and how he is merit a biography. I was not dissuaded and continued. In the process he brought in his father, his farms and his entrepreneurial spirit.
"I finished the book and he was quite pleased. The friendship continued and when I took copies of my memoirs Dreams Dance the conversation dwelt on our history. He wondered, if we do not know our history, where we are coming from, how can we know where we are going? This was last year.
"I wanted to write the biography in poems and some other thoughts in poems. He was interested and we set up a meeting. During our discussions on our history on 25 April this year, a far too many questions lingered on my mind and could not be answered by a book.
"It required answers that can be provided only through hard research. There and then I told him I would carry out work for a Ph.D to provide some answers to the thorny questions. He agreed to sponsor the research. And I am at the University of Ibadan to develop this research project over the next two or three weeks, " Nwagwu maintained.
Nwagwu, who was a professor of Cell and Molecular Biology at the University of Ibadan for many years, retired in 2002. He is a member of the Nigerian Academy of Science.
Nwagwu has over the years shown so much love and loyalty to his late wife, Helen, who was a retired Professor of Psychology at the University of Ibadan. Helen passed on on 30 March, 2018.
Nwagwu has continued not just to eulogise the virtues of his late wife but has also dedicated some volumes of poetry to her. The Collections of poems are "Helen, Not-of-Troy", which was published when she was alive and "Time Came Upon me & other poems," which was published in 2019.
Other poetry collections Nwagwu has written for his wife include "Cat Man Dew" in 2012, and "HelenaVenus" in 2013.
His memoir, "Dreams Dance: My journey through life", his 8th book, was published in 2022. The book "is a glaring testimony to the life of Mark Nwagwu, a man born with a broad-based talent which copiously equipped him for whatever drew his fancy."